Day-1 New Delhi, Wednesday Departure 6:00 PM
On your arrival at Safdarjung Railway Station, you will be treated like a Maharaja and Maharani with garlands, Tikka, turban and a glass of wine. The tour of a lifetime starts in the evening with a ceremonial welcome aboard the Palace on Wheels. As you will be introduced to your fellow travelers, feel free to relax in your new palace and explore every bit of it. Enjoy your favorite wine in the bar and dinner will be served on board in its two restaurants. Before you go off to sleep, savor the tasty delicacies the palace has to offer.
Enquire Now
Day 2- Jaipur, Thursday Arrival 3:45 AM Departure 8.00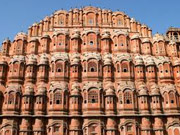 hawa mahal The first stop of Palace on Wheels is Jaipur, the capital of Rajasthan. On your arrival at Jaipur, your tour begins from the Hawa Mahal Palace followed by the amazing Jantar Mantar. Explore the Astronomical Observatory at leisure.
Jaipur is the home to erstwhile rulers and offers a great shopping experience as far as handicraft items are concerned. Also, Jaipur is well known all over the world for its famous hand block printing on textile. Proceed for a lunch at Amber Fort. Also after reaching Amber you can enjoy a ride up to the fort by sitting on the festively decorated elephant's back. Post lunch explore the Amber Fort and get to see the finest example of the fusion of Rajput and Mughal style of architecture.
Return back to your palatial train by bus. Freshen up and rest on your luxury bed while the restaurants prepare dinner for you. Have a sumptuous meal and go ahead for a sweet good night sleep.
Enquire Now
Day 3 - Swai Madhopur, Friday Arrival 5.30 AM Departure 10.20 AM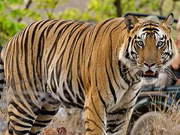 On your arrival to Ranthambore National Park, you can sense a life of wilderness. Located at the junction of Aravallies and Vindhyas, is an exclusive juxtaposition of historical and natural richness. The park is located on the arid denuded tract of eastern Rajasthan, hardly 14 Kms from Sawai Madhopur. You will get to explore the 1000 year old Ranthambore Fort located atop a high hill. You will be taken aback by the site of the remains of historical part cenotaphs, tombs, stepped well, summer palace etc, and how they merged harmoniously into the sprawling forest.
Ranthambhore is dynamic in the diversity and density of fauna it supports. Tiger at the top of the food chain ruins over the Ranthambore kingdom in a subtle way solitary by nature. Quite naturally tiger sighting is a matter of chance. Apart from tigers, you will come across a variety of mammals, spotted deer, sambhar, wild boar, Indian Gazel, Jungal cat, Panthers, Jackal, Hynas Rarely sloth bears, and almost 300 different kind of birds. Mix with this dense natural habitat to enjoy the other beauty of nature and return back to Palace on Wheels. Breakfast will be served on board. Spend your leisure time amidst the palatial environment and have sumptuous lunch on board. Enjoy the afternoon in train while it travels through the lush green countryside and arrive at Chittorgarh.
Chittorgarh Fort was built by various Mauriyan rulers during 5th to 8th century period and is considered to be the largest Fort in India. The fort is spread over an area of 680 acres and is accessible after seven ceremonial gates. Visit the Rana Kumbha Palace and Padamini Palace in the fort. These are considered as master pieces of Rajput architecture. The Padmini Palace in the fort had been the residence of beautiful queen Rani Padmini. The victory tower built by Maharana Kumbha in the memory of victory over combined armies of Malwa and Gujrat in 15th Century is the symbolic identity of Chittorgarh. Traverse through this historical architecture and proceed for a Sound and Light show at fort. Return back and enjoy dinner on board.
Enquire Now
Day 4- Udaipur, Saturday, Arrival 8.00 AM Departure 3.30 PM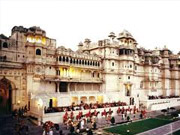 Udaipur Rajasthan TourThis luxury journey will take you to Udaipur, the City of Lakes. Enjoy supremacy among the Rajput clams of Rajasthan here and spend the day sightseeing at Udaipur. The royal journey will take you to Crystal gallery which is the home to a museum of crystal glass furniture, crockery and chandilliers of old time. Enjoy a boat ride and return back to hotel.
You will be offered breakfast on board and will be taken for a visit to Sahelion Ki Bari and City Palace. Enjoy your delicious lunch in Palace on Wheels.
Enquire Now
Day 5- Jaisalmer, Sunday, Arrival 9.15 AM Departure 11.30 PM
Jaisalmer Rajasthan Tour This golden city of Rajasthan founded by Rawal Jaisal in 1156 AD has its own charm. Jaisalmer is the western most citadel of the desert and an ideal merger of ancient history and a developed trading centre. The city is well known for its old mansions and the Sonar Quila Fort, made of yellow sand stone will immediately grab your attention there.
Here you will get to enjoy your shopping and gala lunch at Moomal Hotel. Step on the sweeping sand dunes and take a camel ride deep into the Thar Desert. It is the most symbolic destination for sunset. SSO just sit back and relax as you watch the sun setting on the rolling golden sand dunes. You will have a surreal experience undoubtedly. Sip on your evening tea as you watch the sunset. Enjoy the grandeur of Rajasthani Thali with traditional music and be ready for a luxury dinner at Palace Hotel. If you are in winter, then be ready to enjoy the cultural performance and campfire with dinner in dunes.
Enquire Now
Day 6- Jodhpur, Monday, Arrival 7.00 AM Departure 4.30 PM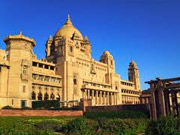 Jodhpur Rajasthan TourYou will receive a special welcome on arrival at Jodhpur and then proceed for sightseeing of mighty fort followed by lunch at Star hotel. Jodhpur, the former capital of Marwar is well known for its indigo- hued homes. The famous Mehrangarh Fort built in 1459 stands spectacularly in this city attracting the attention of tourists worldwide. It makes you witness the lavish and royal history of Rathore.
Then comes the Umaid Bhawan Palace, which is the finest and largest palace in the world. The palace consists of 347 rooms that boast about its grandness and splendor. The 110 feet high central dome has become the identity of the palace. Enjoy lunch at 5 Star Hotel and post lunch return back to Palace on Wheels. You will be served dinner on board.
Bharatpur, Tuesday, Arrival 5.00 AM Departure 8.45 AMThis is a royal kingdom where the jats, rather than the Rajputs, ruled. Also, the Jat history of Bharatpur is not too old. Lohargarh, is the only fort in the state that posses a history that recounts it with pride. The Keoladeo Ghana National Park at Bharatpur is one of the finest bird sanctuaries. You can find over three hundred species of birds and many of them are migrant species that come from parts as distant as Siberia and China. You will be offered a heart healthy breakfast on board.
Enquire Now
Day 7- Agra, Tuesday, Arrival 11.00 AM Departure 7.30 PM
The royal Palace on Wheels will take you to the world's most well known monument, Taj Mahal at Agra. Mughal emperor Shah Jahan had built this epitome of love in memory of his wife, Mumtaz Mahal. It took 22 years to complete this magnificent white marble structure which is incomparable to any other monument the world. Utilize this great opportunity to share one of the best moments of your trip with Taj Mahal. Lunch will be organized for you at Palace Hotel. This is a perfect finale to your royal journey.
Enquire Now
Day- 8- Delhi, Wednesday, Arrival at Safdarjung Railway Station
After your sumptuous breakfast on board, get ready to check out. Carry with you some beautiful royal memories while you return back to your native land.
This is a perfect finale to your royal journey.
Enquire Now